Custom Vehicles
We love modifying vehicles so much that we decided to take it one step further and offer something that is unique to the entire region. Inspired by top-of-the-line technology, superior performance and rugged design, we build fully customized 4x4 vehicles that are equipped with the finest parts and machinery to take on the roughest most diverse terrains, and stand out beautifully while doing it.
Designs are carefully studied and combined with performance enhancement options that are incorporated into the stock vehicles that we purchase directly from the dealership. The result is the creation of a unique concept vehicle with the most exclusive blend of exterior/interior, suspension, electrical and performance upgrades. Each custom vehicle has its very own name selected on the basis of its 'character'. The greatest advantage of this project is providing the customer with a special edition, ready trail rider that is completely modified from A-Z.
Do you want to see more of our projects? Follow on Instagram our #RAMYproject hashtag!
---
JEEP WRANGLER JK 2015 2DR Marshal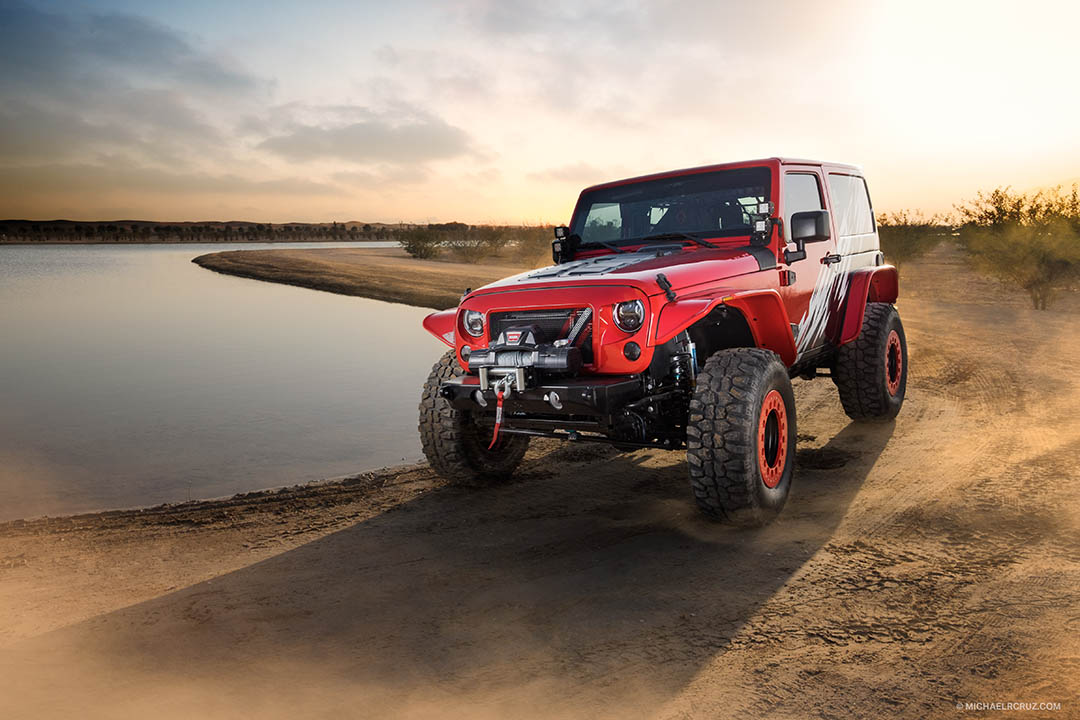 Dubai 4th January 2016 - RAMY Automotive brings out the 'MARSHAL' Jeep Wrangler JK 2DR. A supercharged withmore than 400 HP on the engine and with a 2.5" racing lift kit, the MARSHAL rings true to its name in commanding the desert terrain and leading the pack.
With more than 20 years of serving customers in the UAE, RAMY Automotive has built up a reputation of excellence in quality in modifying Jeeps and other off-roaders along with after sales support that has become the standard in its industry.
Their latest project is the 'MARSHAL', based on a brand new 2015 Jeep Wrangler JK 2DR. The name Marshal means trust and off roaders are led by trusted people who understand the terrain and their ability in guiding the convoy deep into the desert safely and back.
The 'MARSHAL' project was conceived just for such people who demand the best in off roading abilities and gear to get others out of a sticky mess. RAMY Automotive brought in a panel of leading experts who leads the convoy and asked them on what kit would make the perfect 'MARSHAL'. After months of testing and picking the right balance of add-ons, the 'MARSHAL' was conceived. Extensive testing of the powertrain and suspension of the add-ons have been conducted on a separate test vehicle before being selected to be fitted out on the 'MARSHAL'
The 'MARSHAL' comes with a power upgrade using a Sprintex Supercharger and tuned to more than 400 HP on the engine. Chassis upgrades by AOR (American Off Road) 2.5" LIFT KIT and King RACING Shocks both front and rear and all these coupled to 35" Mudd Claw Tires that glides through the terrain as easily as a it does over paved roads.
The 'MARSHAL' project is one of many which would usher in a new era at RAMY Automotive. The company is poised at a new business structure where customers can buy one off Jeep's which has been designed by passionate people. People who understand the terrain of the Emirates, the weather and back up with manufactuers warranty for the add-ons where as the vehicle will carry the Trading Enterprise warranty.
With a price tag of AED 235,000.00 (AED 205,000.00 if ordered without Sprintex Supercharger), the 'MARSHAL' is around AED 115,000.00 over the price of a standard Wrangler JK 2DR. This price brings a piece of mind to customers who expect the best for their Jeep and with the backing of the RAMY Automotive brand, a piece of mind on installation and warranty services for a trouble free Jeep experience.
Here is the link for Interior 360 Virtual Reality Tour: http://www.cruz.ae/vr/ramy4x4/marshal/
Below are all modifications:
Performance:
Sprintex SUPERCHARGER (Diablo tuned)

Borla JK Rear Muffler W/Black Tips and Rancho Exhaust Parts

ALLOY USA JK 4.56 Performance Ring and Pinion

AEV Procal Module NEW Version
Chassis, Suspension:
AOR 2.5" Suspension Performance Lift Kit

King RACING Shocks Front and Rear Adjustable 2.5 Piggy Hose Reservoir

King RACING Shocks 8" Steering Stabilizer and King RACING Hydraulic Bump Stop Kit

Artec Front Monster Axle Reinforcement and Teraflex Heavy Duty Inner Sleeve Kit
Wheels and Tires:
AOR Series 804 True Performance Beadlock 17x10 Custom Painted Wheels

35" Mudd Claw Road and Off Road Tires
Exterior and Interior:
JCR Dagger Front Bumper Powder Coated - Rugged Ridge Rear Bumper Applique Custom Painted

Painted Flat Fenders

Rugged Ridge Spartacus HD Rear Tire Carrier

Rugged Ridge Black Hood Vent Insert Kit

Rugged Ridge JK Black Cargo Net Kit

Wild Boar JK Black Fresh Air Scoop and Rugged Ridge Cowl Armour Kit

AOR Aggressive Rear Light Guards

Rugged Ridge JK Black Door Hinge Covers and Rugged Ridge NEW Rocker Guard Kit

Rugged Ridge Windshield Double Light Bracket

AOR LED Bumper Light Bar 80W and AOR 20W Square LED Windshield Lights

AOR 7" NEW Round LED Headlight with Incorporated Day Time Running Lights

Drake Billet Aluminum Black Antenna

AOR Rear License Plate Relocation Bracket and Black Fuel Tank Cap

AOR Aggressive Grill

Custom Seats Diamond Cut REAL Black Leather With Custom Red Stitching and Logo

Custom Painted interior Accents

Pioneer Touch Screen Entertainment System

Custom Vinyl Stickers

Warn Zeon 8 Winch
---
JEEP WRANGLER PICKUP 2016 Excalibur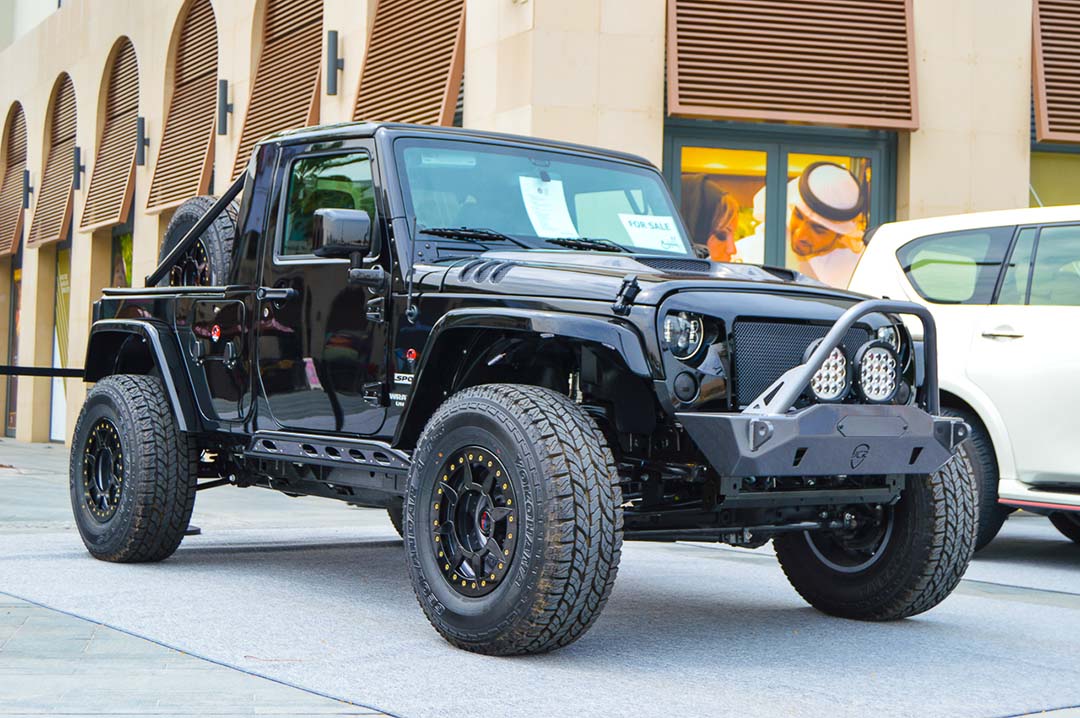 Dubai 29th of March 2016 - The Jeep brand is synonymous with the off-roading culture and lifestyle here in the UAE and other parts of the world as well. It's the versatility and utilitarian nature of the Jeep that makes it easy to customize to one's needs that in turn makes it an ideal tool to explore the unknown for novices and experts alike. The Jeep started its life in 1941 where it went into production specifically for the military, arguably making them the oldest four-wheel drive mass-production vehicles now known as SUV's.
RAMY Automotive is the region's leading and market leader in customising Jeeps. Their expertise is not only limited to Jeep's but spans the range of major off-road vehicles used in the desert. It's their knowledge in building past project Jeep's that has led them to try out something different.
Dubbed as "Excalibur", the new Pick-Up started it's life as a Jeep JK Unlimited Sport. Conversion to a pick-up led to the removal of rear seats and doors, the roof and using this space to make the bed of a pick-up. The story of the conversion did not stop at that, as RAMY Automotive often does is to create not only a purpose built vehicle but also in customizations to its interior and exterior in recreating a sense of mystique as the name given to the project suggests.
The one-off projects are in great demand from clients residing in the GCC as they not only get to see the level of customization that could be done to the Jeep but also selected use of aftermarket add ons to the exterior and suspension which raises the visual dynamics as well as its off-road capabilities of an iconic brand. RAMY Automotive endorses and uses the brands they represent in the region to showcase what can be done and how well it can be done.
Below are the specs to Excalibur's Performance, Suspension, Wheels and Visual characteristics:
Performance:
RUGGED RIDGE JK 2012+ Exhaust Spacer Kit

GIBSON Black Ceramic Coated Exhaust

SUPERCHIPS Jeep JK Flashcal
Chassis, Suspension:
TITAN Performance Suspension by AOR Lift Kit 2.5"

FOX Performance Racing Shocks Front and Rear With Reservoir

RUGGED RIDGE JK 2012+ Exhaust Spacer Kit
Wheels and Tires:
AOR Series 804 17x9 5x127 Custom Painted Beadlock Wheels

YOKOHAMA Geolander 35" ATS Tires
Exterior and Interior:
ACTION TRUCK Unlimited JK Pickup Conversion

MR JK Angry Bird Custom Cut Fenders

JCR Mauler Stubby Front Winch Bumper

JCR Winch Mount Block Off Kit

HASPT JK 2DR Custom Painted Rock Sliders

JCR Crusader Rear Mid Width Bumper

JK Transformer Hood

JK Avenger Grill New Model

JK Black Fuel Tank Cap

JK Metal Door Entry Handles

JK Short Flexible Antenna

JK Rear Number Plate Board

AOR 7" LED Head Lights

BLAST LED Bumper and Tail Lights

RUGGED RIDGE JK A Pillar Switch Pod and CH4X4 Switches

Rear Camera and LCD Screen

RAMY 4X4 Custom Interior Leather Seats

RAMY 4X4 Custom Painted Dash Board Accents

RAMY 4X4 Custom Double Tire Carrier